---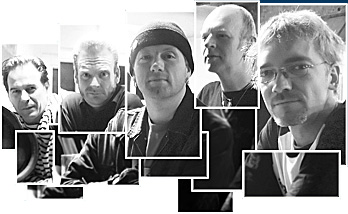 Unrequited love and broken hearts, suicidal tendencies and feeling restless, junkies and drinkers, dreams and traumas, family and manslaughter – all of it themes, who've been waiting for 4 long years to be picked up again by One Bar Town. And finally, the fivepiece answered the call. Via their new, and fourth, album.
'Steal, Nick & Borrow' easily steer clear of all sentimental sentiments when dealing with the abovementioned rather serious issues. Instead One Bar Town have written the songs, you would also have expected from the likes of: R.E.M., The Cardigans or Wilco, on the lyrical subject matter.
One Bar Town doesn't just stick to Country, Bluegrass or Rootsrock on their fourth album. While they always stayed to true to their roots on their previous albums: 'Power Of Principles' (2001), 'Say Me A Rosary' (2003) and 'Boy Scout Songs' (2004). On 'Steal, Nick & Borrow' they really stretch their musical boundaries. From captivating ballads ('Why I Don't Drive The Van'), over hookdriven Rocksongs ('Smallish Victories'), to catchy folk tunes ('The MacDonald Route'). Elsewhere the poptinged 60s sound of 'My Suicide Note' reminds you of scenes from Robert Altmans' cultmovie 'M*A*S*H' from 1970, and Johnny Mandel's brilliant song 'Suicide Is Painless'. Big screen cinema so to speak!
Short Biography
There's a band out there that's probably on the road somewhere right now. It's been going for 10 years and has done over 200 gigs, including many prestigious festivals. It's played support to some of the biggest names in alternative country music and gets rave international reviews for its work.
That band is One Bar Town.
One Bar Town's unique sound comes from the finest blend of roots rock, cow punk and hillbilly. Effortlessly switching from blistering rockers to atmospheric ballads, the band is equally at home playing electric or acoustic material – a versatility earned by dedicated professionalism, great musicianship and sheer hard work in front of audiences all over Europe.
If you haven't seen One Bar Town live before, you're in for a treat. Expect a powerful show loaded with energy and packed with classic, edgy songs. But be warned – there's bound to be a tune you'll be humming the next day that you just can't get out of your head!
Line-Up
Kent Nielsen: vocals, percussion
Stefan Kletezka: guitars, vocals
Andreas Jeßberger: guitars
Skinny Kaspereit: bass
Thorsten Luck: drums
Links
Discography (excerpt)
2001: "Power Of Principles" CD
2002: V/A "Orange Blossom Festival" Vol. 6 VHS
2003: "Say Me A Rosary" CD
2003: V/A "SEKA – Sister" Vol. 3 CD
2003: V/A "Soniche Avventure Punk V" CD
2004: "'Boy Scout Songs" CD
2006: "ARC – Classic Country" Promotional CD
2006: V/A "Orange Blossom Festival" Vol. 10 DVD
2007: V/A "'The ARC Classics – Michael Weston King" CD
2009: "Steal, Nick & Borrow" CD