---
A network of friends – The soul of the European Underground Scene shines again!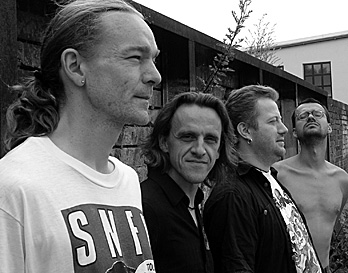 In order to "explain" Attent!on, one has to dig down a bit deeper into the history of the European Punk- & Hardcore-scene. After the end of the last British Punk wave in the beginning of the 80s, the mainstream music media didn't have any interest in Hardcore. Hardcore initially started as a reaction against the original "Punkbands", who sold out to major record companies. By 1987 it seemed the big labels had succeded in buying up quite a few Hardcorebands. Raw energy and political substance was replaced by a marketable image, which often proved out to be sexist, racist and rightwing.
Acceptance on a social or musical level was pretty much nonexistent, you had to create your own space. An increasing amount of people from the Punk and Hardcore scene identified with the "Do It Yourself" school of thought, thus creating their own spaces. The stale music industry didn't have any interest in these new and young bands, who back then, were bursting out of Torino, Nottingham, Amsterdam, Milano, Oslo, Berlin, the Ruhr district in Germany and a hundred other cities. For the first time contacts were made among each other, the lack of suitable live venues saw people travel for hundreds of miles, just to see a couple of bands and meet a few friends. Little by little a network of concertpromoters, bands, fanzines, livevenues and squats developed, where you could create your own cultural life and identity. An exchange between hardcore punks from the most remote areas of Europe took place, at a level which will never be reached by any politician spewing empty phrases and law proposals. The principle of living and working together across borders was already practised and lived out in the Punk- & Hardcore-scene, long before the European Community caught on to the idea. However this happened on the clearly formulated principle of "Cooperation! Not Competition!". To me, this European Cooperation peaked with the band Attent!on, who first began to make themselves noticed 1988. Geographically hard to place, as the members comes from: Germany, Norway, Poland & Denmark. The individual bandmembers are: Viggo (Guitar, backing vocals, ex-Angor Watt, Israelvis) from Norway; Martin Billert (Bass, numerous bands) from Poland; Gustav Kaspereit (Drums, ex-Pissed Boys, ex-Ugly Food) from Germany and Kent Nielsen (Vocals, ex-L.U.L.L., ex-Ugly Food, today One Bar Town/ Viking Wreckchords) from Denmark, now living in Germany. In 1988 Attent!on released the 12″EP 'Hearts Of Stone', receiving rave reviews from all around the world. 1991 the 7″Single 'Greetings From Norway' followed, both on X-Mist Records (Nagold, Germany), each of them a classic in the history of European Hardcore! Now Attent!on are back with new songs. Throughout all this time, the individual members remained in contact, and met again for the first time in 12 years in the Summer of 2003. The result can be heard on the upcoming 7″Inch EP '231'. The idea behind Attent!on, then and now, is musical communication, drawing on both the human and ideological side of things. With their strongly inspiring music and lyrics, the band once again reaches a new level, clearly pushing their musical expression to the limit, lyrically never satisfied by treading the usual topics common in the scene. The band Attent!on provide 4 individuals with the possibility of expressing their ideas, without having to give in to mainstream territory, or the structures of rock business.
I deliberately avoided using any kind of musical labels/genres in this Attent!on bandbio. A brain and a pair of ears is bound to be at hand – decide for yourself. – Helge Schreiber / Plastic Bomb
Line Up
Gustav Kaspereit – Drums
Viggo Mastad – Guitar, Backing Vocals
Kent Nielsen – Vocals
Martin Billert – Bass
Discography
1988:
"Hearts of Stone" 12″EP, X-Mist Records

1991:
"Greetings from Norway" 7″, X-Mist Records

1998:
"Attention" auf V/A "Network of Friends Vol.2" CD/2LP, Plastic Bomb Records / Ataque Sonoro Records

2005:
"2, 3, 1!" 3 Track 7″EP, ltd. Edition on coloured vinyl. Viking Wreckchords