---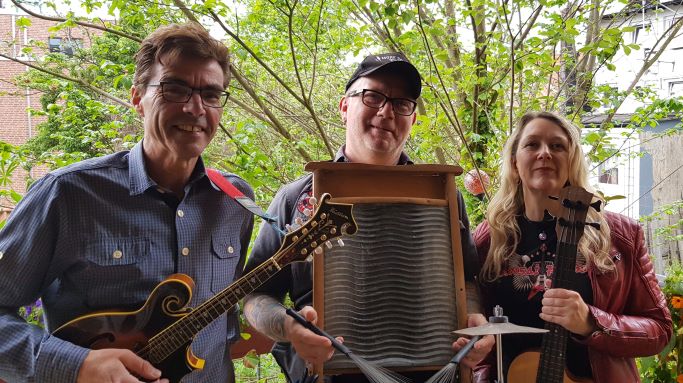 The core line up of the Leroys are back in the saddle. Founding members Kent Nielsen (vocals, ukuleles, percussion) and Torsten "Totti" Scharfenberg (vocals, guitar, mandolin, bass) are joined by Ginger Wade (vocals, guitar, bass). Featuring intricate multi-voiced harmonies and an unpredictable assortment of covers, the band has also been writing new songs as well as dusting off and rearranging some 40 songs from their repertoire.
Compared to their relentless touring across the European continent in the 90s, the band is now keeping a more moderate working pace, with live appearances in and around Lübeck, North Germany, where they are still based. That said, they wouldn't be violently opposed to taking the occasional road trip if the circumstances are right. In addition to upcoming gigs – online and in person – the band has plans to go back into the studio and record some new material soon.
Highlights
> In 1993, the band highlighted the land-right struggles of the Canadian Mohawk Indians with a benefit single.
> On their 2nd UK tour in 1995, the LEROYS decided to make each gig a collecting point for The Newbury By-pass Protesters, asking for non-perishable food and other useful items for daily use which were then delivered.
> After their successful art-house video "Apology" received rotation on Berlin TV as well as National German TV/MTV, the spring of '96 saw them contributing to the official compilation celebrating the World Skateboarding Championship in 1996, where the Leroys appeared alongside SHELTER, NOFX, DOG EAT DOG, SEPULTURA and PENNYWISE a.o.
> In April 1997, they went on their fourth UK tour, followed by Italy in June, all in support of a new self-titled EP, produced by Rolf Schwarz/Freshtone Studio (NICK CAVE, JEREMY DAYS, EINSTÜRZENDE NEUBAUTEN, DIE HAUT, a.o.), an EP that successfully captured the explosive live sound of the Leroys.
In the same year they contributed a track to a compilation/comic of "music and comics against censorship" to benefit the "Alpha Comic Verlag" who had significant trouble with the German district attorney's office. Apart from the LEROYS, the CD featured tracks by NAPALM DEATH, DUB WAR, NO TWIST, BOTTOM 12 and the PIONEERS feat. Africa Bambaata and Grandmaster Flash (!!!). The comic album contained exclusive drawings by the likes of H.R. Giger, Serpieri, Art Spiegelmann, Sieber and many others.

It was after one last tour of Italy in March, 1998 that they disbanded. Despite their initial intention to simply take a break, the creative nucleus of the band, Kent and Torsten, eventually threw in the towel. Disappointed by, even then, an ever-increasing hypocrisy and endless amount of hot air being spewed in the music scene, Kent went on to play in the Roots Music outfit ONE BAR TOWN for the next 13 years, ran Viking Wreckchords and it's mother-label, Twah! and participated in several short-lived Hardcore and Punk Rock Projects, such as ATTENT!ON, 99% BITCH, I'VE HAD ENOUGH! and FREAKLINERS. Torsten and Sonja both withdrew entirely from the music scene. Until now.
Links
Discography (excerpt)
BAND FULL OF LEROYS
1992:
– "Mohawkrevolt At Oka" Benefiz 7"EP

1993:
– "Asshole Of The Week" 7"EP/Cassette Album

1994:
– "Out Of Sight" 7" Single
V/A "If You Don't Get Folked"CD
V/A "Roots All Over The Goddamn' Place" DCD

1995:
– "Between The Chairs" CD
V/A "Harakiri" CD & Magazine

LEROYS
1996:
s/t MCD
V/A"Skaters Have More Fun"CD
V/A "Fresh Tones" Vol. 1 CD

1997:
V/A "Zensur" DCD/4xLP

1998:
V/A "In-fraction" CD

1999:
V/A "The Trip – BSide" CD + Magazine

2013:
"Psycho Bubbles" 4-Track Demo
Biography
Starting off life playing country rock to anarchist squats is not, perhaps, the most traditional route into the music business, but then again, just how traditional could a Danish/German band be? Especially one that drew its inspiration from late sixties rock, American hardcore punk and country-esque roots music? The LEROYS managed to weave it all together and hold it all together for 8 years, until in March of 1998 when they disbanded, originally just to take a break from touring and to write new songs.
But now the core line-up of Sonja Rohwer, Torsten Scharfenberg and Kent Nielsen is back in the saddle. Writing new songs, playing covers for kicks and with the odd live appearance from time to time, the approach is fresh, yet somehow familiar. Better still, their new 4-song demo is a promising sign that we'll have them around to enjoy on a steady basis once again.
In their first go-round, the LEROYS had influences flying in from all over the place; a band full of ideas and twists, you got crunching guitars entwined with the layered vocals of Sonja and Kent. You had a stage presence that demanded your complete involvement (or asked you nicely to step outside). And just when you thought you had them sussed, you got an extended bout of percussion and that rarest of sights and sounds: a hardcore band with a washboard! Lyrically, they took a sideways look at life, involving the listener in the characters or taking them into the world of the mid-nineties European melting pot.
Today, you can still melt into the voices of Kent and Sonja as they harmonize but don't get too comfortable because there are some sharp edges lurking. As Torsten's guitar moves simply and smoothly from a gentle strum into a gentle fury, matching the passion of their voices, you can almost feel guilty; as if you're reading someone's diary. The stark emotion in "Indian Summer" takes you from a wistful yearning for days-gone-by to the brutal truth of a shattered dream and lost love. In "Psycho Bubbles", there's an honesty that will resonant with anyone who's known the pain and confusion of feeling along and broken. So… pretty much everybody. You're not really a voyeur when you're listening; they're inviting you in, but prepare to remain engaged because, the Leroys are not background music.