---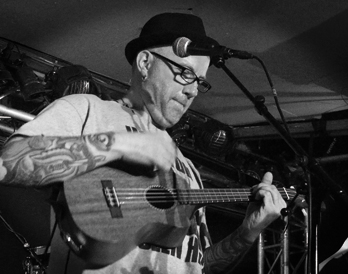 Kent Nielsen is Danish but living in Lübeck (North Germany). He's got a history as an author, percussionist, shoe shop clerk, record label guy, mail order honcho, night porter and ukulele player a.o. But there's one thing he's been doing for ages – and that's singing.

He just completed an old dream – his first "solo album". Roughly half of the roots rock colored songs were written together with Stefan Kletetzka (DEEP RIVER), some are brand new while a couple dates back to Kent and Stefan's time in ONE BAR TOWN. Hence nothing seemed more appropriate than getting their old rhythm section Skinny Kaspereit and Thorsten Luck on board for that part of the recording sessions which took place in Göttingen's Out-O-Space Studios. Three covers were added, one by GLEN CAMPBELL and another two originally written by EDDIE & THE HOT RODS and C.V. JØRGENSEN featuring Kent solo on the ukulele. Three more songs, drenched in Mod and 60s sounds, were written together with Helge Reich (JAM TODAY) and two musicians from his current band RUTSCHBAHN DREI, Jens C. Möller and Dirk Holtkötter. This part of the recordings took place in Hamburg's Tonhotel Studio. The album also includes guest appearances from George Whitfield (FIDDLEBOX, ex-PRESSGANG) & Martin Wenk (CALEXICO, NADA SURF, JUDITH HOLOFERNES).
The album was successfully financed via a crowdfunding campaign on Indiegogo.com. With the tune 'Star Wars Diaries' being released as a digital single. A great song for toe-tapping, hip-swinging and singing along!


V.W. 130
Label: Viking Wreckchords
Cat.-No.: V.W. 130
Digital distribution by The Orchard
CD distribution by Viking Wreckchords.
Bundles, CDs, T-Shirts, etc.: https://kentnielsen.bandcamp.com/merch

Digital single 'Star Wars Diaries' out on Aug 5th 2016
CD/Download of 'Shotgun Seat DJ' out on Sep 30th 2016
Links
Kent Nielsen at:
Facebook Soundcloud Instagram
Discography
– Kent Nielsen
2016: "Shotgun Seat DJ" CD
– w/ L.U.L.L.
1986: V/A "Smörebröd und Sauerkraut" LP
1987: "Highest Wall" LP
1988: V/A "Something Is Wrong" LP
1989: "Freakline" LP
1992: V/A "10 Meter ohne Kopf" LP/CD

– w/ Attent!on
1988: "Hearts Of Stone" MLP
1990: "Greetings From Norway" 7″ Single
1997: "Network Of Friends" DLP/CD
2004: "2,3,1!" 7″EP

– w/ Ugly Food
1989: "s/t" MLP
1990: "Seneca Boulevard" LP
1991: V/A "X-Press" LP
1992: V/A "Shabab" LP

– w/ Band Full Of Leroys
1992: "Mohawkrevolt At Oka" Benefiz 7″EP
1993: "Asshole Of The Week" 7″EP/CA 1994: "Out Of Sight" 7″ Single
V/A "If You Don't Get Folked …" CD
V/A "Roots All Over The Goddamn' Place" DCD
1995: "Between The Chairs" CD
V/A "Harakiri" CD & Magazine

– w/ Judgemen
1994: V/A "Roots All Over The Goddamn' Place" DCD

– w/ One Bar Town
2001: "Power Of Principles" CD
2002: V/A "Orange Blossom Festival" Vol. 6 VHS
2003: "Say Me A Rosary" CD
2003: V/A "SEKA – Sister" Vol. 3 CD
2003: V/A "Soniche Avventure Punk V" CD
2004: "'Boy Scout Songs" CD
2006: "ARC – Classic Country" Promotional CD
2006: V/A "Orange Blossom Festival" Vol. 10 DVD
2007: V/A "The ARC Classics-Michael Weston King" CD
2009: "Steal, Nick & Borrow" CD

– w/ Leroys
1996: "s/t" MCD
V/A "Skaters Have More Fun" CD
V/A "Fresh Tones" Vol. 1 CD
1997: V/A "Zensur" DCD/4xLP
1998: V/A "In-fraction" CD
1999: V/A "The Trip – BSide" CD + Magazine
2013: 'Psycho Bubbles' Demo CDR

Biography by Morten Hammelboe & Thomas Golzen
In 1980 Kent Nielsen, then in high school, was looking for a cure for small town traumas. Seeking refuge in the nearby Danish city of Odense, Kent soon found himself a new home in the growing local punk rock community, singing and performing with various punk and no wave bands. In 1985 he joined the Danish hardcore band L.U.L.L. (LEBEN UND LEBEN LASSEN). The band virtually put Odense on the Danish punk rock map. In 1987 they landed a record deal with the West German label Starving Missile, and released their debut LP "The Highest Wall" in the same year.
While still singing in L.U.L.L, Kent had involved himself in another project together with a handful of distinguished likeminded punks from Poland, Norway and Germany: ATTENT!ON. Their debut album "Hearts Of Stone" was released on X-Mist Records in 1988.
Now based permanently in Lübeck, Kent refused to rest on his laurels and pushed himself even harder. By the end of 1989 he had established his own label, Twah! (Tunes With A Heart), and together with ATTENT!ON drummer Gustav Kaspereit formed the band UGLY FOOD, who released 2 LPs and completed several European tours.
In the following year, Kent formed the more roots rock-oriented BAND FULL OF LEROYS (B.F.O.L.) together with Skinny Kaspereit and Torsten Scharfenberg. However, the local Lübeck punks didn't take too kindly to roots rock and the band repeatedly managed to provoke outrage when entering the stage clad in everything from confederate hats to Cro Mags Longsleeves. In 1991 UGLY FOOD was put to rest, leaving Kent to focus on his label and B.F.O.L. They released two full-length albums – "Asshole Of The week" in 1993 and "Between The Chairs" in 1995 – as well as a number of singles. They also appeared on various compilations and toured the length and breadth of the European continent. From Dresden to Birmingham, from Trondheim to Palermo. On their second German tour they were joined by Mohawk Activist Don Patrick Martin, and released the benefit single "Mohawk revolt at Oka" on Twah!. In support of the 1995 "Between The
Chairs" album, B.F.O.L. released a video clip for the song Apology, which received airplay on MTV and numerous other European music programs. The following year, B.F.O.L. shortened their name to LEROYS, and contributed a song to the official compilation CD for the World Championship in skateboarding. Despite a somewhat difficult start, B.F.O.L.'s touring activities in Italy, England and Germany continued into the spring of 1998 when the band split up, worn out by ever changing line-ups, lack of success and the general financial and physical strain of constant touring.
However, Kent was already planning new projects. As 1999 dawned, he formed the roots rock-oriented ONE BAR TOWN with Stefan Kletetzka and his two loyal swordsmen Skinny Kaspereit and Jerk Christiansen from B.F.O.L., with the later addition of rhythm guitarist Andreas Jeßberger to the Line-Up. A couple of years down the line Thorsten Luck replaced Jerk on the drums. ONE BAR TOWN continued in full swing for the next 13 years, touring and releasing 4 studio albums, before their final shows at the end of 2012. And this pretty much brings us up to date with the situation today.
Since 2011, the LEROYS have been at it again, albeit this time around they're going at a much more moderate working pace compared to their relentless touring routine across the European continent during the '90s. Still based in Lübeck, North Germany, the LEROYS will most likely play shows around that geographic area. That said, they wouldn't be violently opposed to taking the occasional road trip if the circumstances are right.
On top of that Kent is playing in the Ukulele Punk Rock cover duo UKES OF TOMORROW and also started singing for Hamburg based Garage Punk Rock band THE CRIMES.
So this year we'll probably see Kent off to yet another bash of clubs around Europe. Alternatively, we'll see him retire to Langeland or maybe even see him try his hand as a wedding singer. Well, actually he's already had a shot at the latter, but that's another story …